Dog Grooming, pet sitting & pet care Services
Grooming and Cutting
We offer a mobile pet care service where we Groom and cut your pet in an environment in which they feel secure and with which they are intimately familiar, your home. Grooming a dog plays as important a role as diet and nutrition when it comes to keeping a dog happy and healthy. Brushing a dog regularly helps to prevent the dogs hair from matting and the dog from developing skin diseases such as dermatitis. Regular brushing helps to remove dead skin cells which will make your pet scratch less and feel far more comfortable.
Cutting your pets coat makes them more comfortable, especially in a climate that is foreign to them. Cutting the coat also helps to prevent and treat skin conditions that often plague dogs in warm climates.
Bathing and Dipping
Bathing dogs using the correct pet care products is an essential part of keeping a dog's skin clean and healthy. By bathing a dog regularly you help to prevent dry skin and itching and also ensure that your pets coat remains shiny and healthy. Bathing your dog also provides us with the opportunity to inspect the coat for fleas, ticks and a variety of skin irritations that could be causing your pet discomfort. It must, however, be emphasized that some breeds of dog need more bathing than other and that over-bathing dogs using incorrect pet care products can be harmful to your dog. The regular bathing of pets has also been known to make people who suffer from allergies more comfortable around their animals. Remember a clean dog is a happy healthy dog.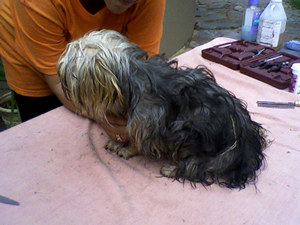 Dipping your dog is also an important part of keeping your pet happy and healthy. Its a little known fact that dipping not only gets rid of ticks and flees but also helps to prevent your dog from being plagued by worms and other pests. When the correct products are used, dipping allows the agents that help fight ticks, flees and worms to penetrate the skin and work from the inside out.
Pet sitting
We offer a pet sitting serve where we visit your pets once a day and interact with them in order to provide them with the stimulation that they require. Booking your pet into a kennel can often be a very traumatic experience for the animal. It is far kinder to leave them at home, in an environment that they are comfortable in and familiar with. When we are at your house we will gladly ensure that your house is secure and that swimming pools, etc are functioning properly.